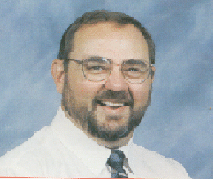 Pastor David G. Anderson
David G. Anderson grew up in East Ridge, Tennessee, and graduated from East Ridge High School.
After receiving a B.A. in English and History from Emory & Henry College, he worked on oil drilling rigs in Texas for year.
David received his theological training at Candler School of Theology at Emory University and did a year's residency in Clinical Pastoral Education as a hospital chaplain at Methodist Hospitals of Memphis.
David started as a pastor in January 1986 with two churches, Wesley and Lou's Chapel, in South Pittsburg, Tennessee and received Deacon's ordination in 1987.
After a year as an associate minister at Trinity UMC in Knoxville, he served two more churches in the Sequatchie Valley, Sulphur Springs and Looney's Creek. While there he was ordained as an Elder in 1990.
His longest pastorate, 6 years, was at Ebenezer--Bailey in Bluefield, Virginia, after which he served one year at Central--Rutledge before coming to Rising Fawn in June 2001.
This pastor is very pleased with his congregation. He says, "Rising Fawn United Methodist Church is a great bunch of people. It is truly the friendliest church I've seen."
"He was in the world , and the world was made through Him, and the world did not know Him."------John 1:10